Like Kim, I too remember the frozen pot pies. They were 4/$1 when I was in college. I ate them so often I could actually tell the difference between the chicken, turkey, and beef pot pies at a glance. I wonder if that's why I prefer to cook from scratch today....
Go check out her blog. If you win the box, she'll put your initials on it for you.
As my dear daughter said when SHE was in college, "Swe-e-e-e-e-t."
_______________________
If you like offers that include FREE shipping, Beach Cottage Stitchers is taking signups for the
Little House Needleworks Mystery Sampler
. Free shipping on the charts with Auto-ship. I really don't need another project. I have enough, I have ENOUGH.
But it sounds like so much fun. Darn it.
In the meantime, I'm still trying to get a new battery for my watch before I finish stringing all the beads. And I've received the last house for Santa's Village, the Christmas Tree Farm.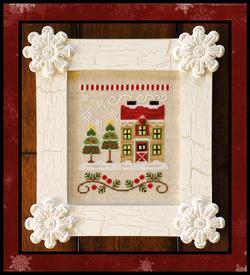 The house and the roof are WDW threads that I purchased a few weeks ago for this. As I've said before, the designer posts the threads for the piece on the website before the chart is released. But can I find where I put them? Of course not. They must be tucked away in that magical "safe place" that's so safe even I can't find it. That spot is more secure than Fort Knox. Or perhaps it's in Area 51 and the aliens have my thread. Wouldn't you like to see THEIR stitching?
In the meantime, I've begun work on a new hardanger piece. This beginner level kit from
Nordic Needle
is a white-on-white runner. Stitching the kloster blocks is quite soothing. This is how it should look when it's finished:
Very pretty isn't it? It's counting but since it's stitched almost entirely with #8 white pearl cotton, I think that it will make a good piece to take on a trip. First I need to complete the inner part of the outer edge, if that makes sense. The very outside edge is done in buttonhole stitch to keep the edge stronger. The section just inside that is all kloster blocks which are essentially satin stitches. If I've counted correctly, the stitches will meet when I get all the way around. In the meantime I check to see if my stitches are lined up by tracing my needle across the piece. If I end up at the mirror image of my last stitches then I'm probably okay.